Enjoy public chat without spending a thing
One of the best things that the site has going on is the public chat. This is where you can sit in and just watch the mature cam girls show themselves off to their audience. You only have to spend your tokens if you want. It's never a requirement and that's what makes it a real destination. You can make sure the girls you're watching will be able to give you everything you want without an issue. You can talk about your show before you start paying for it and that's the way cam sites should always work.
Pros
Thousands of horny cam girls online all of the time
Sign up quickly with just an email address and nothing more
Enjoy the public chat rooms without spending any money
There are no cam models under the age of 30 at all.
Cons
You can find the same models on Live Jasmin
Models are clearly working for tokens when they're talking to you
Token purchase amounts are confusing
How the site works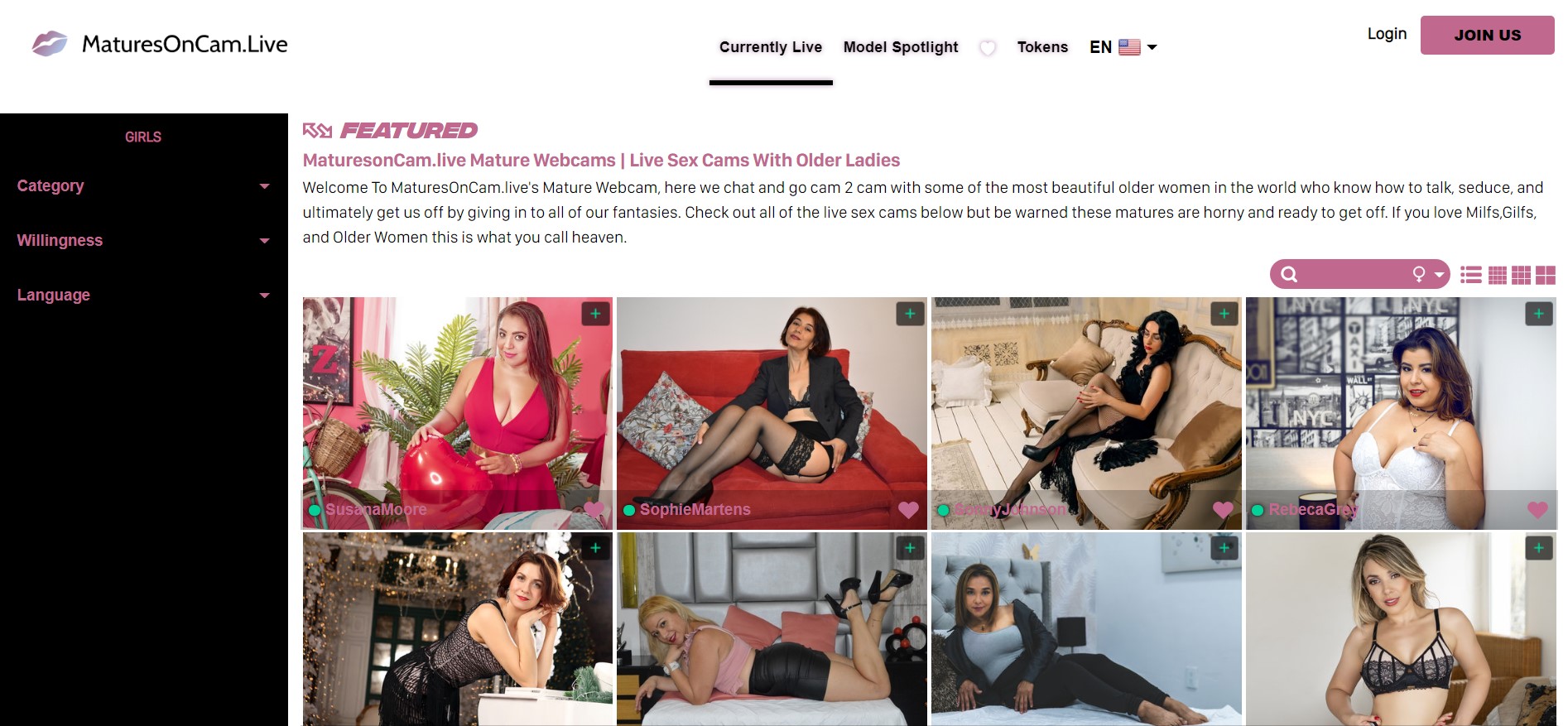 Everything on Matures on Cam works exactly how you think it should. You can find everything you need right where it should be. You never have to go out of your way to find anything. It's an easy to use interface that works to get you into your favorite cam rooms as quickly as possible. If you've ever been to a cam site before then you know exactly what to expect here.
Signing up is easy
The easiest thing that you can do on the site is simply sign up for it. It only takes a few minutes and all you need is an email address. Simply enter and choose a password and username, and that's it. You don't even have to verify your registration through your email. Just sign up and you're ready to use the site. You won't find a cam site that makes it any easier than that to sign up and it just shows you how much this site wants to get you to the action.
The interface is easy to use
Everything you need to get your cam show is right where it should be here. You'll have a list of categories and willingness on the left side to organize all of the mature women on the site. The categories let you choose from terms like butt plug, footjob, hairy, and love balls. It lets you find girls who are willing to show you the things that you love to see. If you want to organize by willingness, you'll be able to filter all of the girls by the sex acts that they're willing to do on their cams. You can choose from terms like anal sex, dildo, striptease, and vibrator. It makes it next to impossible to not find exactly the right girls to suit your mood. All it takes is a click and they're all going to be presented for you to check out.
Learn about the models
If you really like to get to know the models that are getting naked for you, you can check out their profiles. They have a lot information that you can use to talk to them in their chats. You'll be able to learn anything you want. There's information about their bodies, like their cup size. Then there's information about what turns them on and what turns them off. It's a great way to make sure you can have a fun chat with them about the things that they're interested in.
On top of that, all of the girls have photo sets and most of them have videos for you to watch. You can see a lot of them for free. There's no nudity or sex, but it lets you take in every single inch of their bodies with your eyes. If you want to see them naked, you can buy the explicit photos and videos with your tokens. One click is all it takes to download the photos and videos and keep them on your hard drive for as long as you want. You'll be able to see your favorite models naked, whether or not they happen to be online.
Types of models
It doesn't matter what kind of mature women you're into. You're going to be able to find them right here. The only thing that all of the girls have in common is that they're all over the age of 30. Other than that, you can kind find any kind of cam girl that you want. There are plenty of white girls, ebony girls, Asians and Latina. There are blondes, brunettes, and redheads. There are petite girls, skinny girls, tall girls, and BBWs. If you like them, you can find them online here.
Buying tokens
The entire site runs on tokens and they make it easy for you to buy them. There are four different options to pay for them. You'll be able to use your credit card, Skrill, Cryptocurrency, or pay with unused gift cards. It means that no matter how you want to pay, you'll be able to do it. The credit card is the recommended method, but using gift cards is the best way if you have them just sitting around. Simply enter the company and amount and you'll be given tokens in exchange for them.
Price
If you're using a credit card, the pricing is pretty straightforward, but will seem confusing. If you want to spend $24.99, you'll get 17.99 tokens. If you spend $27.99, you'll get 35.99 tokens. Spend $178.99 and you'll get 157.99 tokens to use on your favorite cam girls. You can also enter any amount of money that you want. Simply type it in and the site will calculate how many tokens you get in return for it. It maxes out at $5,789, so if you want to spend more than that, you'll have to do it in multiple transactions.
Safety
No cam site is really worth anything if you're not safe while you use it. Matures on Cam makes sure that you're as safe as possible and your credit card information is never saved on their serves. On top of that, the name of the site will never appear on your billing statement. You'll never have to end up explaining why you're spending money on cam girls to anyone. It lets you use the site and play with the girls without having a single worry about anything. You can focus on the fun and let the site take care of everything else.
Summary
Matures on Cam is a cam site that makes sure you get access to all of the hottest mature cam girls on Live Jasmin. They're ready to play and you can do all of the same things with them as you can on the main site. There are thousands of girls to play with and they're all organized by what they're willing to do with you. It's easy to use and you can find exactly the kind of girl that you're looking for. One look is all it takes to know that you're on the last cam site that you'll ever want to visit.
FAQ
What is it?
Matures on Cam is a cam site that brings you nothing but older women who want to get naked and have fun on cam. You'll never come across a single model who's under the age of 30 here.
Is it safe?
Matures on Cam is extremely safe. Your financial information is never shared with anyone or stored on any of the site's servers.
Is it a scam site?
Matures on Cam simply brings you all of the mature women from Live Jasmin. It's not a scam and you'll never have to spend money unless you want to.
Is it free to use?
You can check out the public chat rooms all you want without having to spend a thing. You only have to pay money if you want to buy tokens.
Is it the best site around?
If you love older and mature cam girls then Matures on Cam is the best cam site that you can find. It organizes all of them so you can find them quickly and easily. You can see what they're into and the kind of fun that you can expect to have with them. It should be your go to cam site for older women.