Pros
Appealing, easy to use design of the site
Lots of live shows for any taste and budget
Cons
Not an original webcam site
Private shows are not budget-friendly
Credit card needed to activate your membership
Not all models speak English
Overview
If you are completely new to the world of live sex webcams or have simply never heard about Jerkmate, you are probably now wondering: what is Jerkmate and should I pay it any attention? Jerkmate is an adult webcam service that has numerous performers broadcasting their live sex shows for viewers around the world.
Jerk Mate will probably impress you with its interface and selection of live shows on your first visit, but after spending some time on the site, seasoned webcam viewers will likely notice a few similarities between Jerkmate and other popular adult streaming services, especially Streamate. It's not a coincidence, as Jerkmate is nothing more than a duplicate of Streamate. Find out if you should use it from our Jerkmate review.


How It Works
Before we can tell you whether Jerkmate is a safe and competitive cam website, let's answer the most important question: how does it work? Here is how your experience with Jerk Mate will play out.
Signing up at Jerkmate
The home page of Jerkmate.com tries to lure you in with previews of hote live shows, but it doesn't allow you to check any of them out before you create your account. Signing up for Jerkmate looks easy, but the first registration screen is only the first part of the process. After you enter your email, nickname, and password, you will then be asked to provide your credit card details in order to verify your account. There is an option to skip this step, but you will be stuck with a basic account that doesn't really offer a lot of benefits.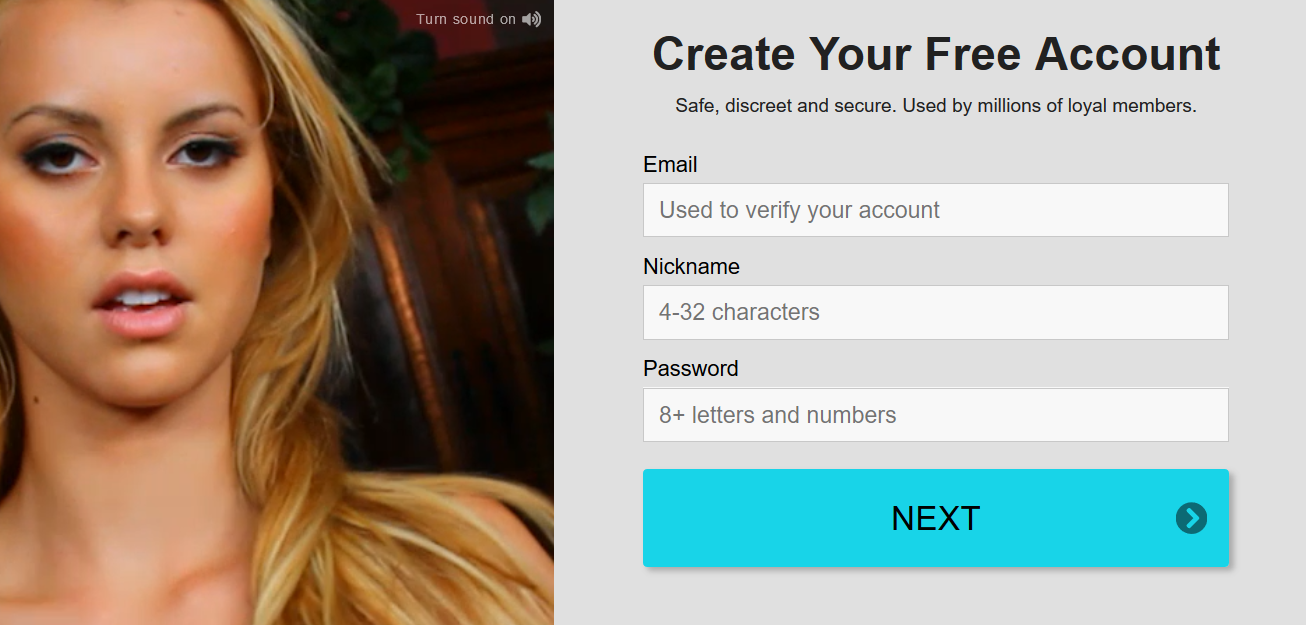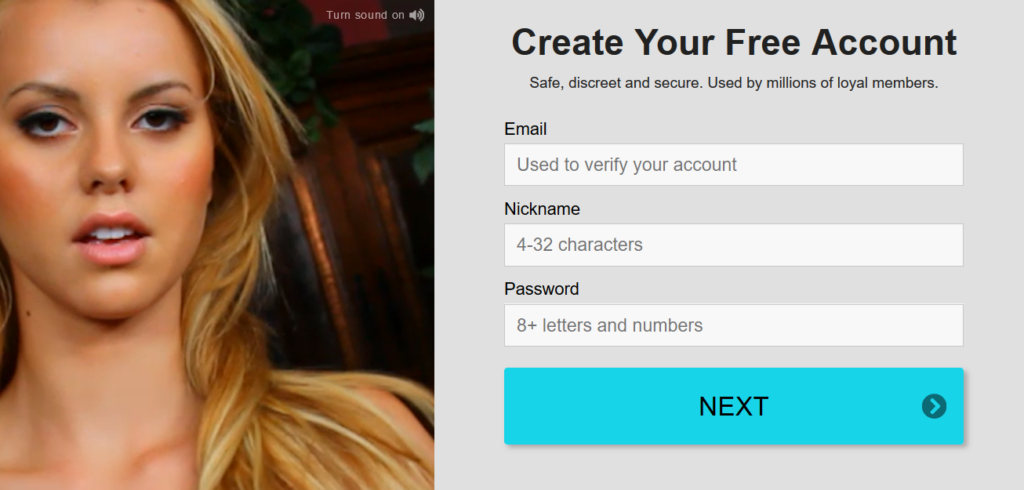 Interface
The interface of Jerkmate.com is easy to navigate, but not particularly unique. There is an option to switch between male and female cams. Using the menu on the left, you can also choose to see new models, Gold shows, your recently viewed broadcasts, and the participants of a Jerkmate concept.
Below the main menu, you will find a list of categories and tags available on Jerk Mate. You can see models from different age groups, parts of the world, appearance features, and kinks you can see in their private shows. Other than that, there are not a lot of menu options on Jerkmate that can enhance your user experience.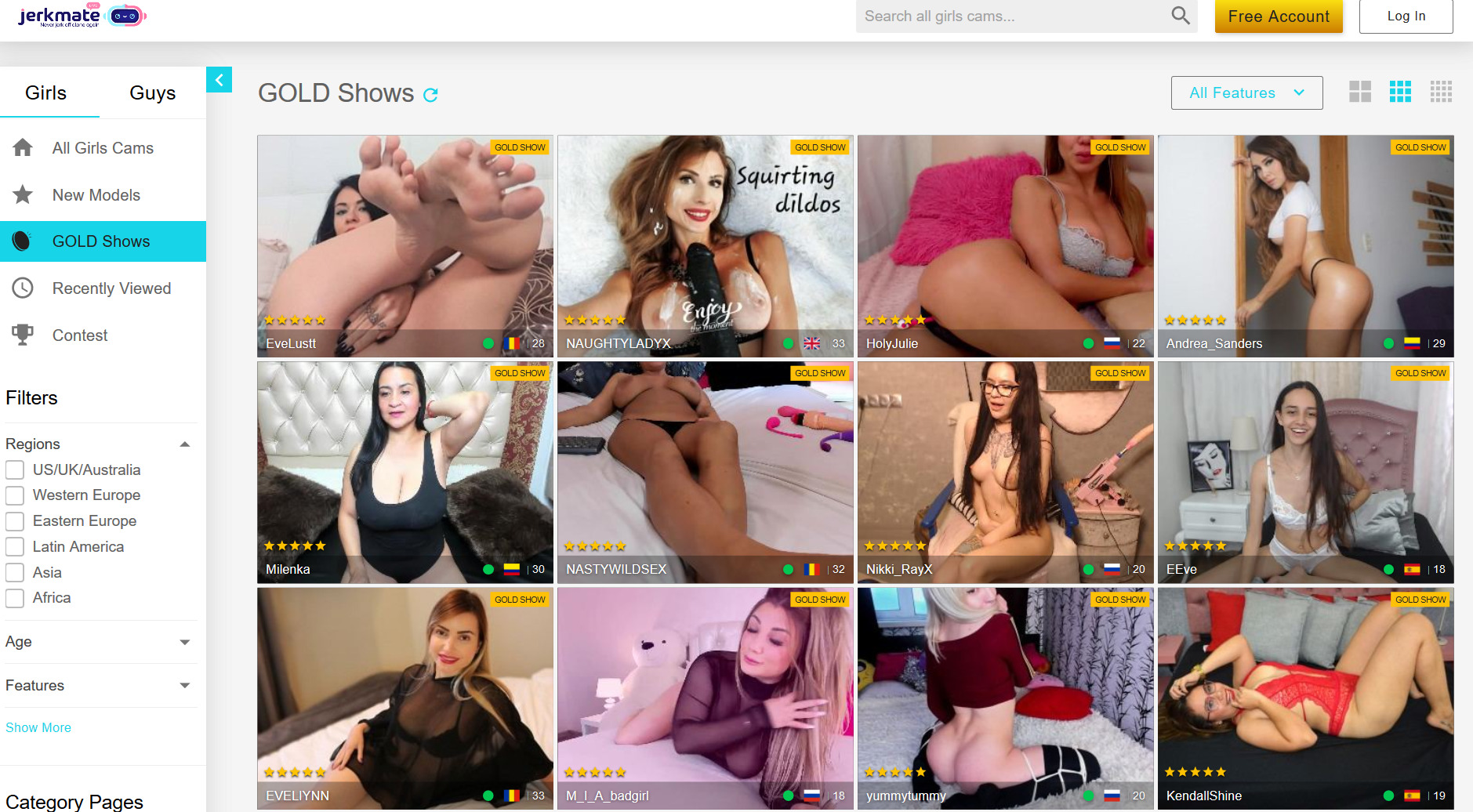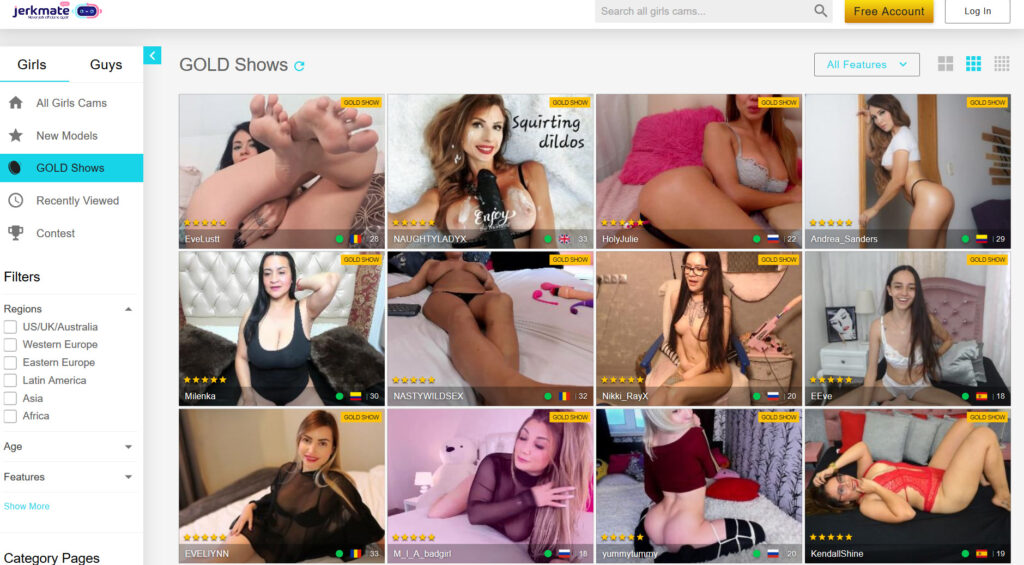 Model profiles
Unlike many other adult webcam sites we review on SexCamRadar, Jerk Mate does not offer animated previews of live shows, which means you will need to visit the chat room if you want to see what's happening there. The design of model chat rooms is very simplistic: there is the broadcast itself on the left and the chat on the right.
On the bottom of the page, you can find the extended profile of the model, but it does not provide a lot of information about the performer. You can find out how old she is, her physical parameters, and the things she can do in her live broadcasts. Some models also have additional photos and videos in their profiles, but a significant percentage of the media is only reserved for paying users.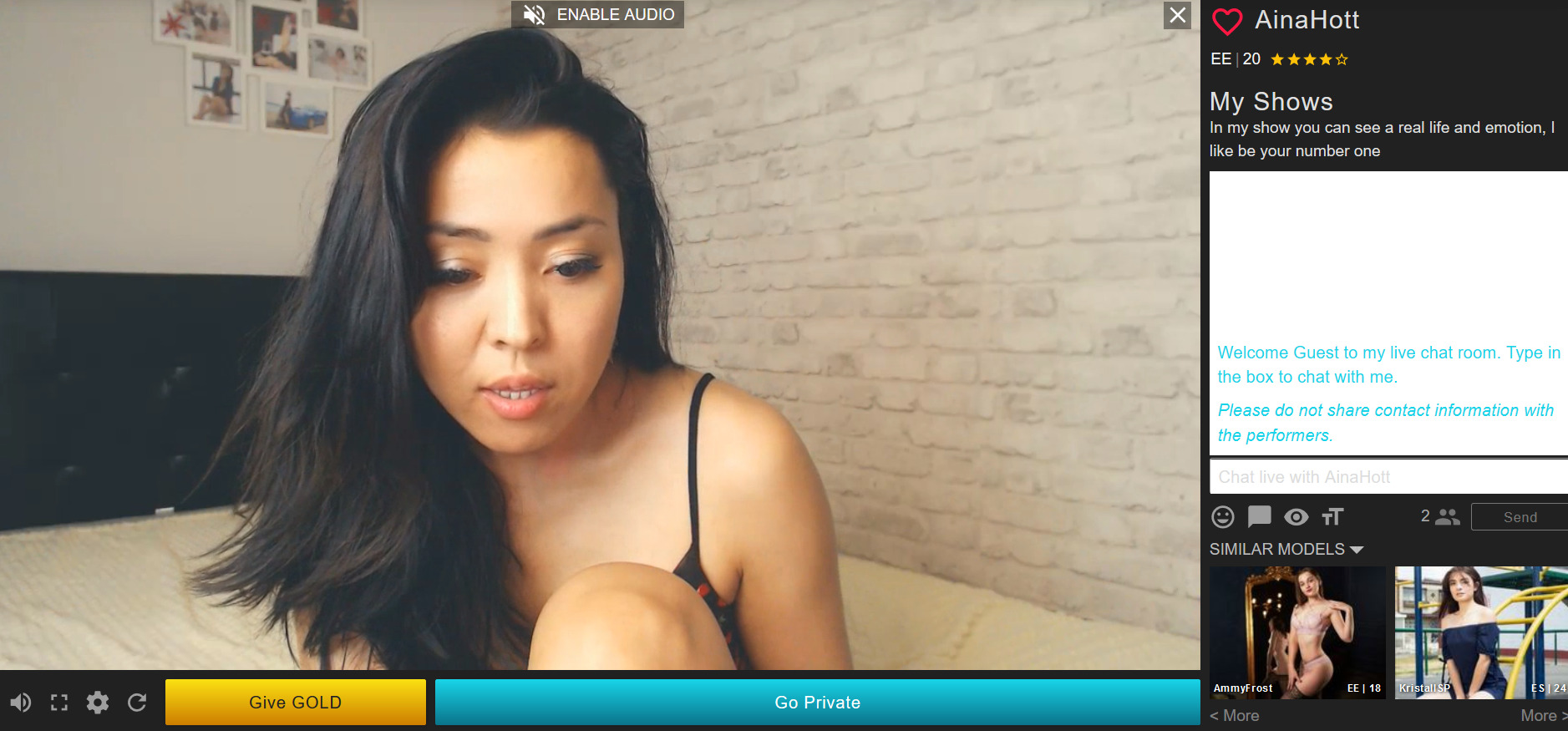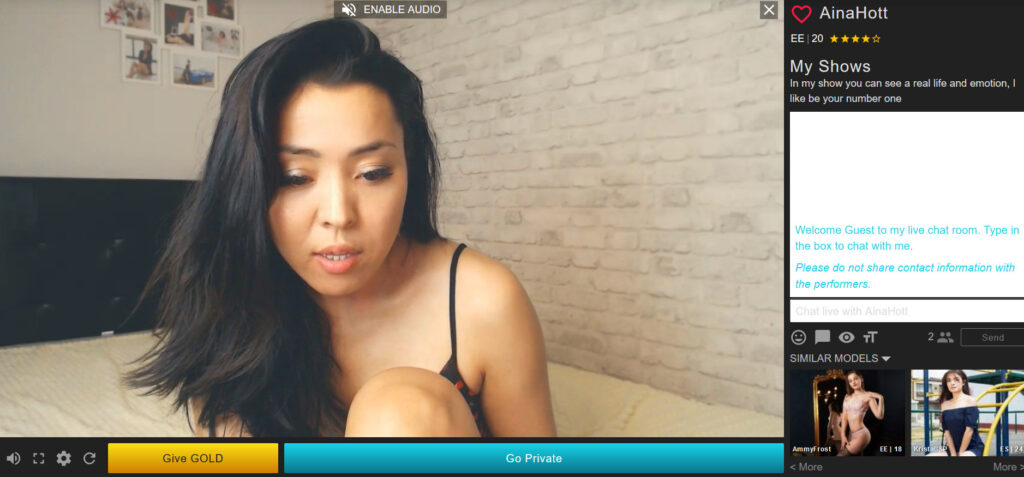 Audience
While working on our own Jerkmate review, we have discovered numerous Jerkmate reviews where the authors point out the similarities between the model database of Jerkmate and other adult streaming sites, particularly Streamate. And after spending even a few minutes on both sites, it's hard to argue with the fact that Jerk Mate does not employ any models of its own and instead simply broadcasts the performances from the parent site.
At the same time, we noted that the model database of Jerkmate.com is rather versatile. There are women of all ages, ethnicities, and body types. You can find different hair colors, body modifications, kinks, and other features while browsing the performers on Jerkmate.
Pricing
There are many live sex sites claiming to offer free services to their members, and Jerk Mate is no exception. So is Jerkmate free or will you need to invest money into your viewing experience? It's true that there are some shows offered by Jerkmate for free, but you should know that most models in free shows will instantly abandon their feed when they are invited for a paid private show.
There are three main types of paid shows on Jerkmate.com:
Private shows
Exclusive shows
Gold shows
The most affordable option is the Gold show, where several viewers chip in for the model to perform for them. Private shows can cost from $1 to over $5 per minute and offer you one-on-one experience with the model, but other viewers can spy on your show for a payment. Exclusive shows, which are the only 100% private performances on Jerkmate, can cost $10 and more, but no one will be able to spy on your interaction with the model.
Safety
When you are an active user of an adult streaming site, you don't want your personal and financial information to be misused in any way. That is why the question "Is Jerkmate safe?" is a perfectly legit one to have. Unfortunately, we cannot say with confidence that Jerk Mate is a secure webcam site.
Sure, there is a FAQ section and customer support system on Jerkmate.com. However, the requirement to provide your credit card details in order to create your full account certainly doesn't add to the trust between the site and its users. Plus, it's impossible to ignore the fact that Jerkmate is just a dupe of another adult cam site, which is not a sign of a safe and reliable service.
Summary
If you don't really care about the originality of the adult cam site and its models, it is possible to have a good time on Jerkmate once or twice. However, the selection of performers and features is not unique enough to satisfy seasoned viewers, so you might as well go for the many original live sex sites we review on SexCamRadar.
FAQ
What is Jerkmate?
Jerk Mate is an adult webcam site where models from all over the world broadcast their sex shows in real time. It's important to know that Jerkmate is nothing but a copy of Streamate, another popular adult cam website, and shares 100% of its features and models with it.
Is Jerkmate safe?
Jerkmate.com does not appear to be the world's safest webcam site. There is customer support available via multiple channels and a brief FAQ section, but the fact that you need to provide your credit card details in order to activate your membership certainly looks suspicious.
How much does Jerkmate cost?
On Jerkmate.com, you can find private shows that cost from $1 to $5 per minute. There are also several models who charge more than that, but you can save some money by going for a Gold show, where you will share the experience with a few other viewers.
Is Jerkmate a scam?
The two most common questions users have about the site are "Is Jerkmate legit?" and "Is Jerkmate safe?". Instead of answering the last question directly, we will let you be the judge. How legit can a webcam site be when it's a complete copy of another popular adult cam service?
Can I use Jerkmate for free?
Anytime you visit Jerk Mate, you can find dozens of shows that you can watch for free. However, free shows on Jerkmate are mostly used by models to showcase their talents, hoping that someone will invite them for a private show. That is why the show may end unexpectedly when you are only starting to enjoy it.
Does Jerkmate have a mobile app?
No, considering that Jerkmate is not a unique webcam site, it shouldn't be surprising that it doesn't offer any downloadable mobile apps. There is, however, a mobile version of Jerkmate.com that you can access in your phone's browser.
Are there any sites like Jerkmate?
Well, given that there is nothing original about Jerkmate, you can find numerous webcam sites like Jerk Mate. Start by checking our other reviews on SexCamRadar.com, where we test, research, and evaluate every noteworthy adult cam service in the industry.