Streamate.com was launched in 2003 and continues to be one of the most popular webcam sites both among the viewers and the models. Unlike many of its competitors, Streamate is constantly evolving and rolling out new features for its members. Right now, Streamate.com employs thousands of models who perform live sex cam shows for any taste and preference.
Over the years, Streamate has gotten a lot of praise from users who love its variety of performances and its overall functionality. However, Streamate is also frequently under fire for pricing its shows significantly above the average webcam prices. So are those prices justified or can you easily find similar quality and variety of broadcasts elsewhere? This is one of the many questions we want to answer today.
Pros
Streamlined and modern design
No annoying ads or animations
Over 1,000 models live at any time
HD+ broadcasts available from most models
Cons
Credit card is needed to sign up
Most shows are not budget-friendly
How Streamate Works
You don't need to be a webcam expert to enjoy Streamate cams, but you still want to be prepared for your first time visiting Streamate.com. Here is how it's going to go.
Interface
One of the best things about Streamate is that this site is regularly updated and does not feel like it's 18 years old. The design of Streamate.com may be simple, but it's also easy to navigate, free of ads, and allows you to quickly find whatever you're looking for. On the homepage, you will see the previews for all the Streamate live cams available right now. There are usually over 2,000 models performing live on the site, so you'll always find a new show to watch.
Besides the live show previews in the centre of the page, you can find a drop-down menu with options and a search on top of the page. Streamate has a simple search, where you can look for a specific kink, trait, or username. There is also an advanced search, where you can filter the models by different parameters. Plus, there is a menu with categories on the left. Here you can switch between female and male cameras, as well as various tags describing what's going on in the chat room.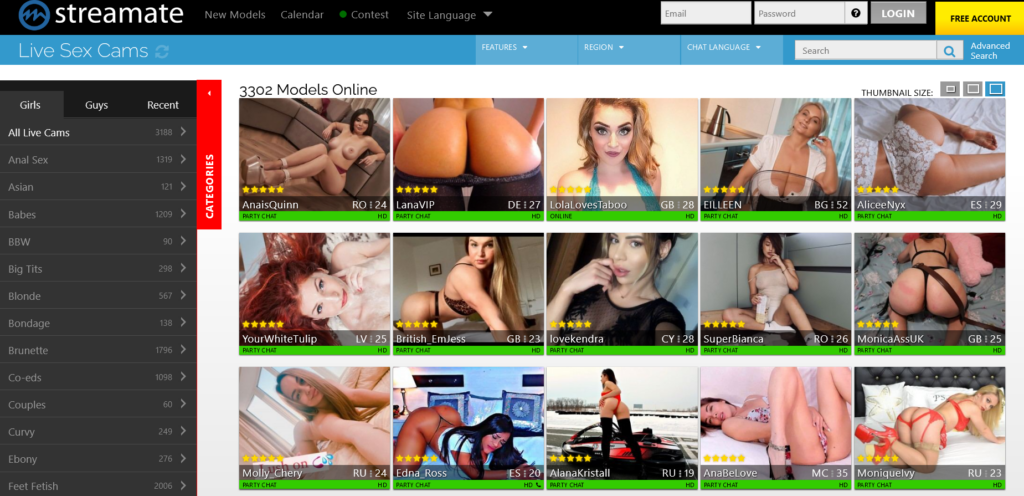 The Streamate live show feature has a very straightforward design. There is the broadcast itself, a couple of options to give gold and request a private chat, and a model's profile, where you can find out more about her, what she likes, and see her additional media. In free chats, you can see what the other users are writing to the model, which can somewhat hinder your enjoyment.
Signing up for Streamate
Streamate makes it nearly impossible to use the site without registration. The smartest thing here is to create an account right away and then go on to watch all the Streamate live shows you want. In order to become a member, you need to specify your email address, set your password, and choose your username. Then you will be taken to the second registration step, which is providing your credit card details. This is done to verify your identity and you won't be charged yet, but there is also no option to skip this step.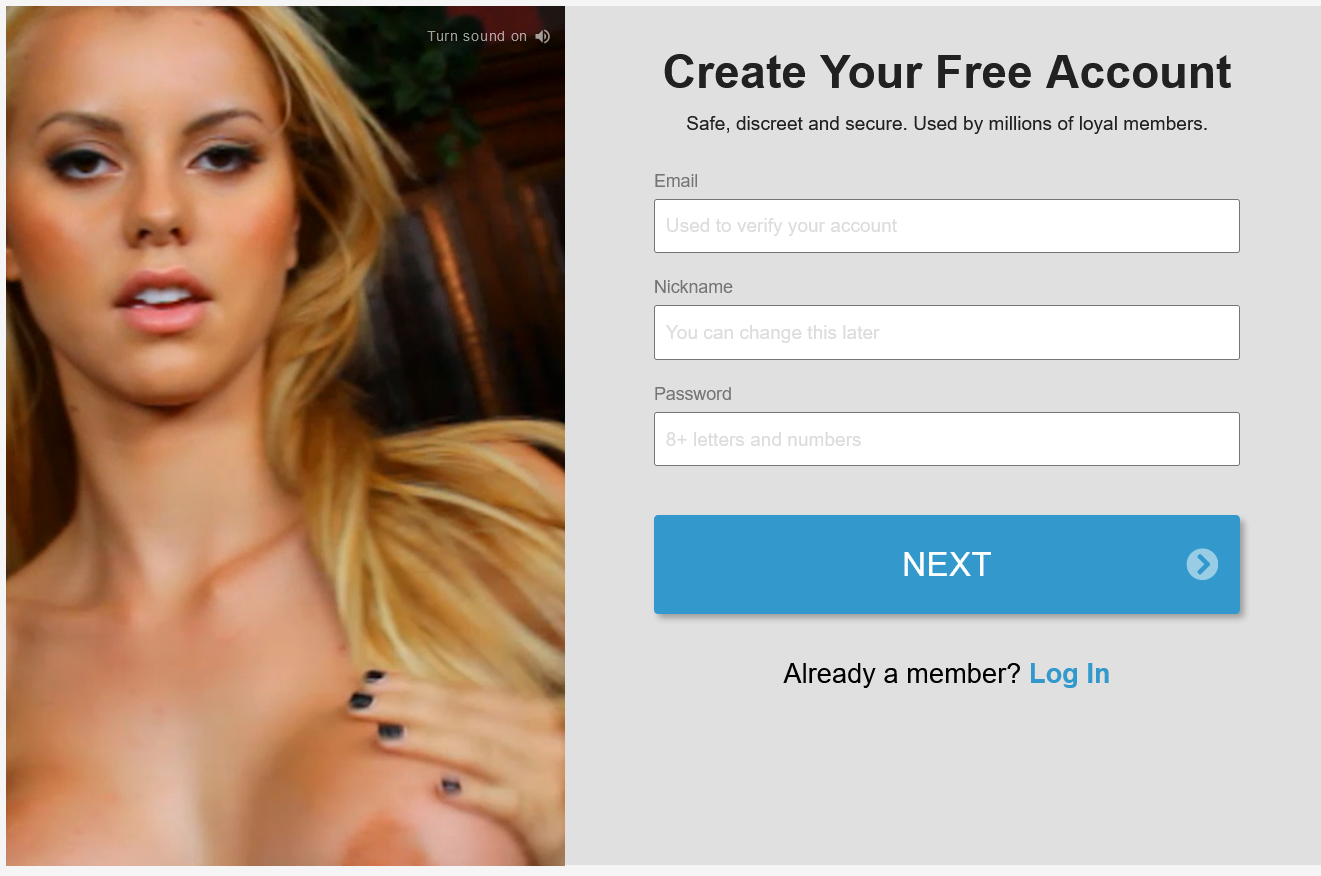 Benefits of a Streamate membership
A free membership on Streamate.com gives you very little benefits: you can participate in free chats, view model profiles, and follow them. Streamate also has a paid membership option, which you can get for free if you spend over $25 on credits in one purchase. The perks of a paid Streamate membership include:
Messaging the models privately
Live show previews
Videos and photos in model profiles
Phone calls with the models
Special bonuses from the models for the followers
Models
Streamate.com claims to have over 60,000 models working for the site, but at any given time, you are more likely to see around 2,000 live models. Unsurprisingly, the biggest group of models on the site is girls. There are all kinds of female models performing on Streamate cams, from young, thin, and conventionally attractive girls to different ethnicities, BBW, MILFs, and so on. The models on Streamate are pretty creative and often use various sex toys to spice up their feeds, including remote-controlled toys. There are also some male, couple, and trans Streamate performers, but their number is very small compared to female cams.
Pricing
As soon as you join Streamate, you will realize that most of the Streamate sex cams are only available on a paid basis. Sure, you can click on a public chat room and watch the model perform for her viewers for a couple of minutes. However, without any personal interaction, those free shows can get boring pretty quickly. Plus, there is always a possibility of the model leaving the chat unexpectedly to perform a private show.
On Streamate.com, you can upgrade your experience in several ways. First, you can use Gold to tip the model or to get her to perform specific actions. Second, you can request a private show, where the model will perform only for you. These shows usually cost from $1.99 to $19.99 per minute. Third, Streamate has Gold and Party shows, where you can chip in with several other viewers to get the model to perform for you. Those shows are typically cheaper than private shows, but the downside is that you will not be the sole focus of the model's attention.
Safety
Streamate.com is a webcam site that is pretty serious about the security of its users. It even has a dedicated security section in the site's FAQ. Here you can find the answers to the most common security questions users may have, including what happens with your data once you share it with the site and whether you can use Streamate.com anonymously. There is a widely available support system on Streamate that you can access via phone, live chat, or email.
When signing up for Streamate.com, you don't have to share any of your personal information other than your email address. The site even encourages you to keep your sensitive data to yourself. However, the fact that a credit card is required to sign up for the site, even if it's not immediately charged, is somewhat of a security issue to us.
Summary
We were impressed with the variety of models and the quality of broadcasts on Streamate.com. But we also found that the free access to shows on Streamate is limited, and paid shows on the site tend to be more expensive than the average market rates.
FAQ
What is Streamate?
Streamate is a sex cam show where you can watch live erotic performances from various models. Streamate works with models all around the world, but European, Latin American, and US models are by far the most common ones on the site.
Is Streamate safe?
Streamate.com appears to be a safe webcam site with little to no security complaints made by users so far. Streamate does not ask for more of your personal data than your email address, but we did not like the fact that you need to provide your credit card details simply to sign up for the site.
How much do Streamate credits cost?
Streamate credits, which are called Gold, are sold at a very convenient price of $1 per 1 Gold. Gold can be used to tip the models and arrange private chats. 1 minute of a private show will cost you from $1.99 to $19.99.
Is Streamate a scam?
No, Streamate.com does not appear to be a scam. There are many original models working for the site and unless the video is marked as pre-recorded, it is always live. The only issue we had with Streamate is the fact that a credit card is required during registration.
Can I use Streamate for free?
Yes, you can watch some of the Streamate live cams for free. However, the models on Streamate often save the best for paid shows, so as a free user, you may not get everything you want from a performance. This is what Gold and private shows are for.
Does Streamate have a mobile app?
Not, there is no Streamate app you can download at the moment. However, you can easily access your favorite models and videos by typing the address of the site into your mobile browser's address bar. The mobile version of Chaturbate looks similar to the desktop version and has most of its functionality.