Camster.com has not been around for as long as some other popular webcam sex sites, but it still has a lot to offer to the viewers. For thousands of users around the world, Camster is the go-to place when they feel like they've seen every popular model on every popular sex cam site and are now looking for something fresh and new.
In essence, Camster.com functions similarly to other cam sites. It has both free shows and paid show options. What sets it apart from the competitors is the huge variety of paid features and how much you can tailor your webcam experience to your needs. Here at SexCamRadar.com, we want you to enjoy every second of your time spent on Camster live, so here is what we have to say about it.
Pros
Original selection of active models
Modern and convenient design
Wide price range of paid shows
Competitive mobile version of the site
Cons
Very expensive membership and shows
Limited number of models online
How Camster Works
If you've ever been to other sex cam sites, you probably have at least some idea of what to expect from Camster.com. In case you want to be better prepared for your first-ever visit, here is how your journey will likely go.
Interface
Camster definitely wins in the design department. Its interface is both pretty and functional, which is exactly what you expect from a site like this. Unlike many other adult sex sites, Camster.com does not have an outdated interface and actually regularly updates its look to keep up with the trends.
The biggest part of the page is taken by the Camster cam live previews. Each preview tells you what's going on in the chat room and whether you should join it. You can also see the room type and whether this particular model has an interactive sex toy enabled. On top of the page, you can find the navigation menu. From here, you can switch between male, female, and trans cams, access pre-recorded videos, check out new, popular or featured models, as well as buy a VIP membership.
A little lower, you can find the menu with the categories. Here you can filter the Camster girls by language, show type, and kinks, which include even your wildest fantasies. If you are a picky viewer, you can also opt to see only HD cams. However, we've found the quality of broadcasts on Camster.com to be higher than average even without the HD option.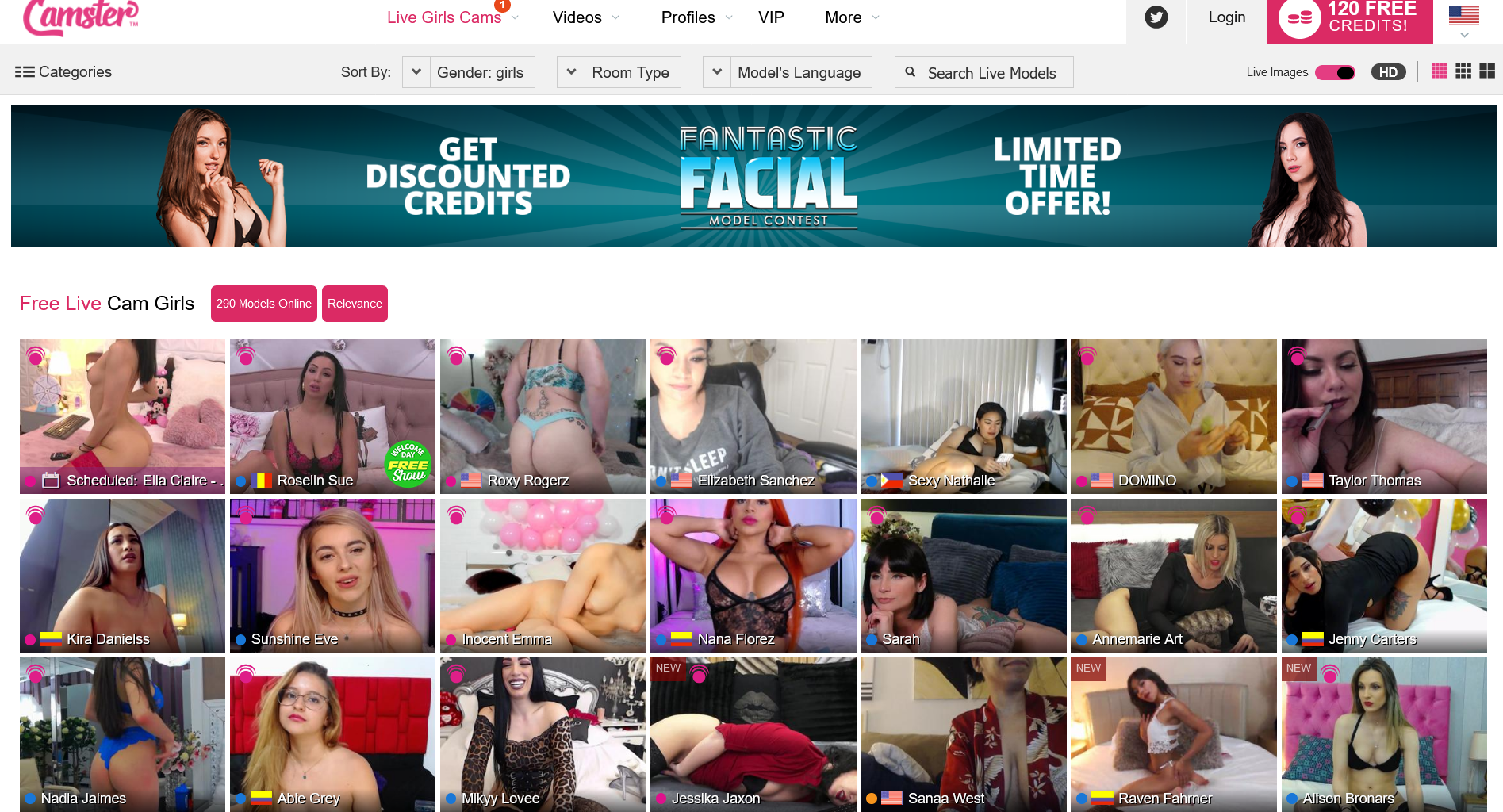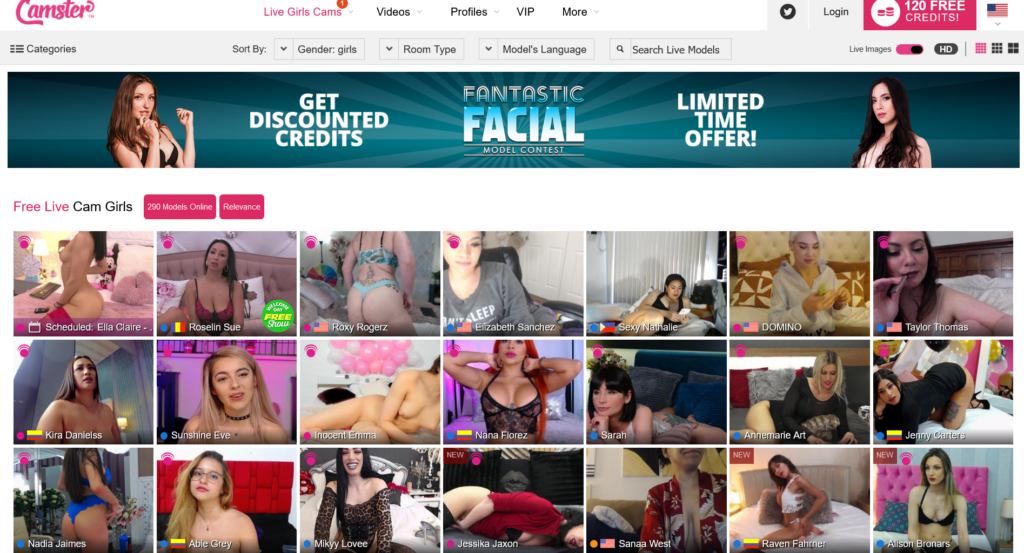 Once you've located a preview that speaks to your desires, you can click on it to see the chat room. The Camster chat room is designed similarly to other sex cam sites: there is a video broadcast on the left and a chat on the right.
With free shows, you can book the girl for a private show or send her a tip to show your appreciation. If you scroll lower, you will find the model's profile, and we have to say that Camster.com has one of the most detailed model profiles we've ever seen. There is the model's bio and stats, lots of sexy photos, and even a schedule that will help you catch her live next time you visit the site.


Signing up for Camster
A Camster account is not required if you just want to take a peek at live free sex shows. But if you want to interact with the models, let alone participate in a private show, you will need to sign up for the site. Camster.com makes registration pretty easy: all you need to do is specify your email address and password, and choose your username. You don't need to confirm your email right away and you can move on directly to browsing the Camster girls.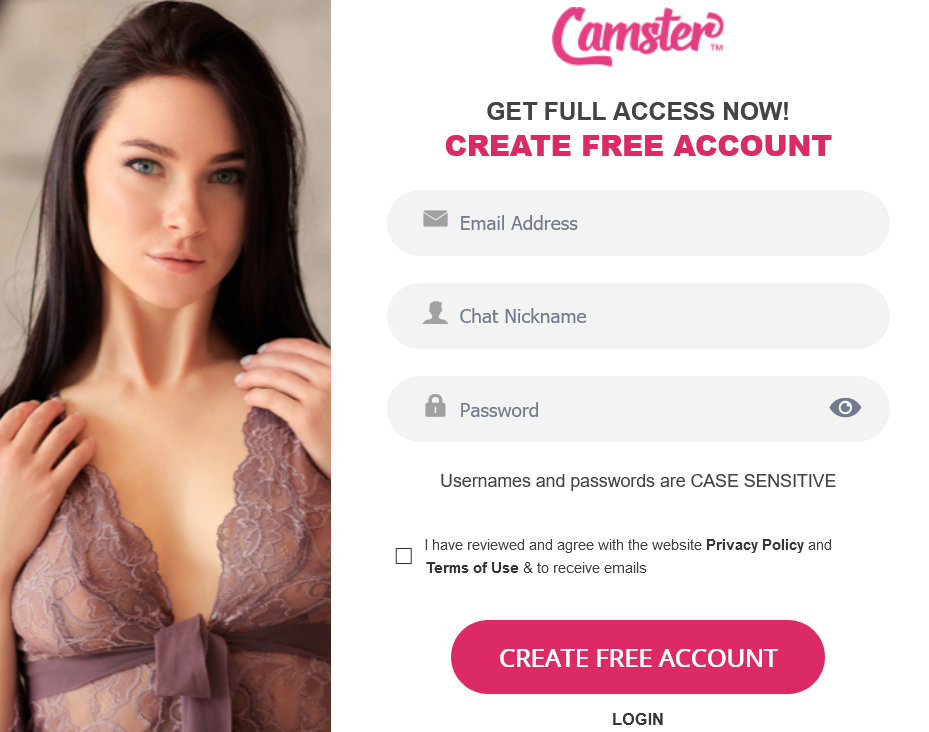 Benefits of a Camster membership
Camster.com does not offer any substantial benefits to its free members other than the ability to participate in the chat. If you want to interact with the models and access some other perks of Camster, you can for a VIP membership. It's much more expensive than the Premium membership on other sex cam sites and costs $39.95 per month. In addition to the 150 bonus credits that come with the membership, you will get the following benefits:
Exchange private messages with the models
Change your fonts and use emoticons in the chat
Special hour-long sex shows
200 free pre-recorded videos per day
Adjust your screen size
Models
At first glance, the variety of Camster girls seems huge, but in reality, it's not that big. At any given time, you will only see a few hundred live sex models. Obviously, more models are performing during the weekend and nights, but as a viewer, you want to be able to access a variety of shows even at odd hours. The limited number of adult models online is probably our biggest disappointment with Camster.com.
Other than that, we were pretty happy with the quality of the performers we've seen on the site. There are far more women than men and trans models on Camster, but that's usually a given. We liked the fact that most Camster girls took the time to fill out their profiles, so you can instantly know their likes and kinks. We also felt like the models deliver an exciting performance even in free shows, which is definitely a big advantage of Camster.
Pricing
Camster.com does not limit the time you can spend watching free shows. You can even go from room to room and view as many free sex shows as you want. However, the models on Camster are not running a charity and they like to be rewarded for their performances. The most popular way to show your appreciation is to tip the model. Many Camster girls even have tip menus and goals that encourage the viewers to tip as much as possible.
Camster.com also offers a variety of paid show options to spice up your experience. There are classic private shows, group shows, where several viewers pledge towards a fixed amount of tips needed for a show, and party shows, where the performance goes for as long as the viewers actively tip.
Safety
There are no common problems with safety reported by Camster users. The site has an extremely detailed FAQ section that also includes lots of questions on security. Plus, Camster.com offers numerous ways to access customer support, which is available 24 hours a day and is ready to answer your questions and address your concerns any time you have them.
Summary
Camster may not have the biggest variety of adult webcam models, but it can still be a pretty good choice of a sex cam site. It has a lot of original models and they deliver an enthusiastic performance even in public chats, so just imagine what they can do in private!
FAQ
What is Camster?
Camster is a free live cam site. Here you can watch live sex cam shows from adult models, participate in the chat, and interact with the models in several other ways, including private chats. Camster.com employs thousands of models from around the world.
Is Camster safe?
Yes, there is strong evidence to suggest that Camster.com is a generally safe webcam site. There have not been any major complaints about the safety on Camster and the service takes the security of both its viewers and the models seriously.
How much do Camster credits cost?
Like most live sex cam sites, Camster.com offers users to buy credits in several packages. The packages range from $29.99 to $159.99. Luckily, it's easy to calculate how many credits each package will give you since 1 credit on Camster costs approximately $1.
Is Camster a scam?
No, Camster.com is a genuine adult webcam site with many original models and features. Camster allows you to enjoy quite a lot of content for free, and even though the membership and the live shows on the site can be expensive, spending money here is not mandatory.
Can I use Camster for free?
Yes, you can watch dozens of Camster shows without paying anything and before you even sign up for the site. However, it's worth noting that Camster girls don't really pay a lot of attention to free members and can even quit the chat if no one's paying.
Does Camster have a mobile app?
No, there are no Camster apps you can download to your mobile device. However, if you want to take your webcam experience on the go, you can always use the mobile version of Camster.com in your browser. Its design is adapted to smaller screens but it has most of the functionality of the desktop version.