Pros
Impressive number and range of performers
Models often go wild even in free shows
Cons
Not an original webcam site
Fixed private show rates
Limited customer support options
True private shows can get very expensive
Overview
Camversity.com first went live in 2015 and for several years, it functioned as a standalone adult webcam site with a fully original range of models and features. However, after a while, Camversity was acquired by another well-known webcam service called Camsoda. Since then, Camversity has mainly acted as a whitelabel copy of Camsoda, and this is probably the most important thing to know about it.
Still, for some reason, many viewers prefer using Camversity over the original Camsoda. If you also want to know whether you should spend your time and cash on Camversity.com or it's best to go another live sex show site, out Camversity review by SexCamRadar is there to answer all of your questions.
How It Works
If you have ever visited Camsoda or another popular webcam site, you probably already know what to expect from your time on Camversity. In case you are a first-time webcam user, here is all you need to know about using Camversity.
Signing up at Camversity
There is no rush to sign up for Camversity.com, as you can check out the free live sex broadcasts and the functionality of the site as a guest. However, if you want to message the Camversity performers in chats or enhance your user experience with tokens, you may want to create your account right away. The good news is that it only takes a couple of minutes of your time: Camversity only needs your email, username, and password, and verifying your account via following the link from the email is not mandatory — you can move on straight to browsing the site.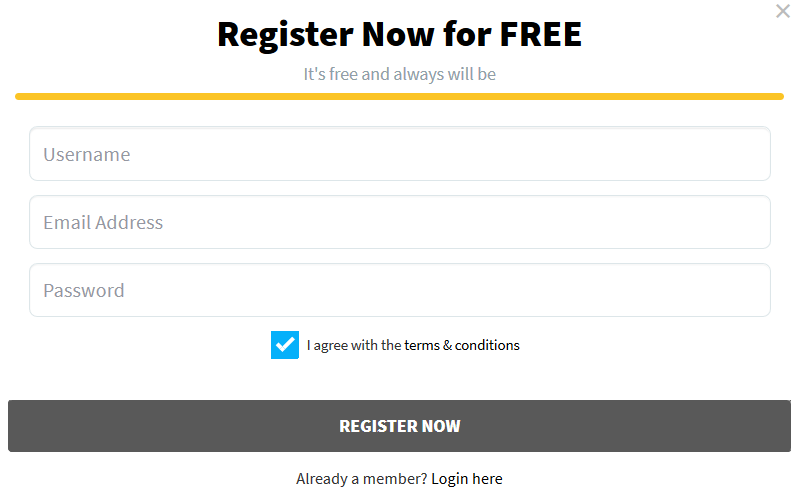 Interface
Getting the hang of the Camversity.com interface is not difficult at all, as the site has a very streamlined and simplistic design. The main site menu can be found on top of each page. From here, you can go to your profile, adjust your membership status and number of tokens, check out the top-rated media files, and even organize your own broadcast.
The list of all available shows with previews is located right in the middle of the page. By default, Camversity only displays female sex cams, but you can tap the Settings icon to add or remove male, couple, and trans cams from the feed. Camversity has a few dozen tags that will allow you to tailor the selection of live cams according to your tastes.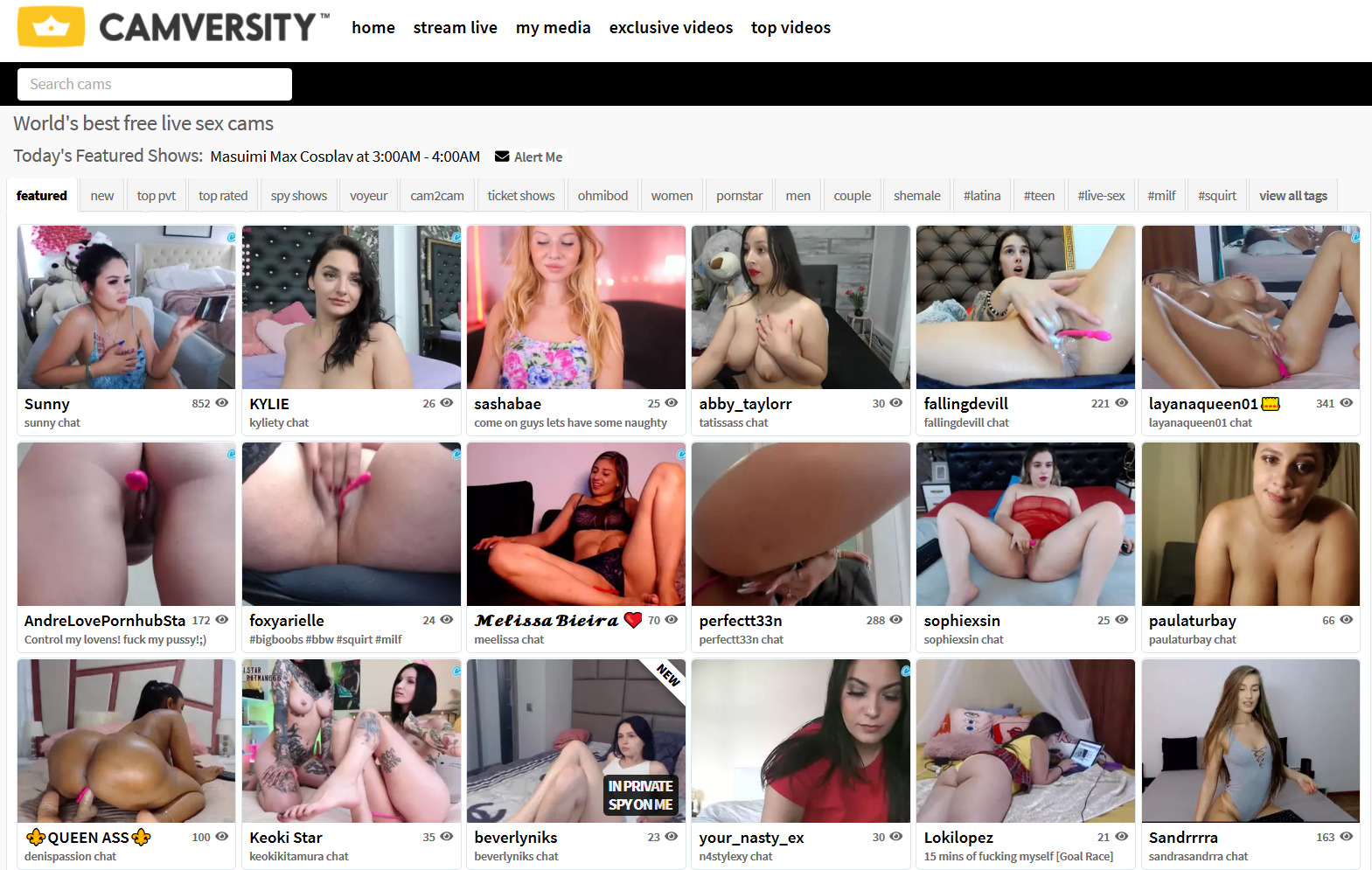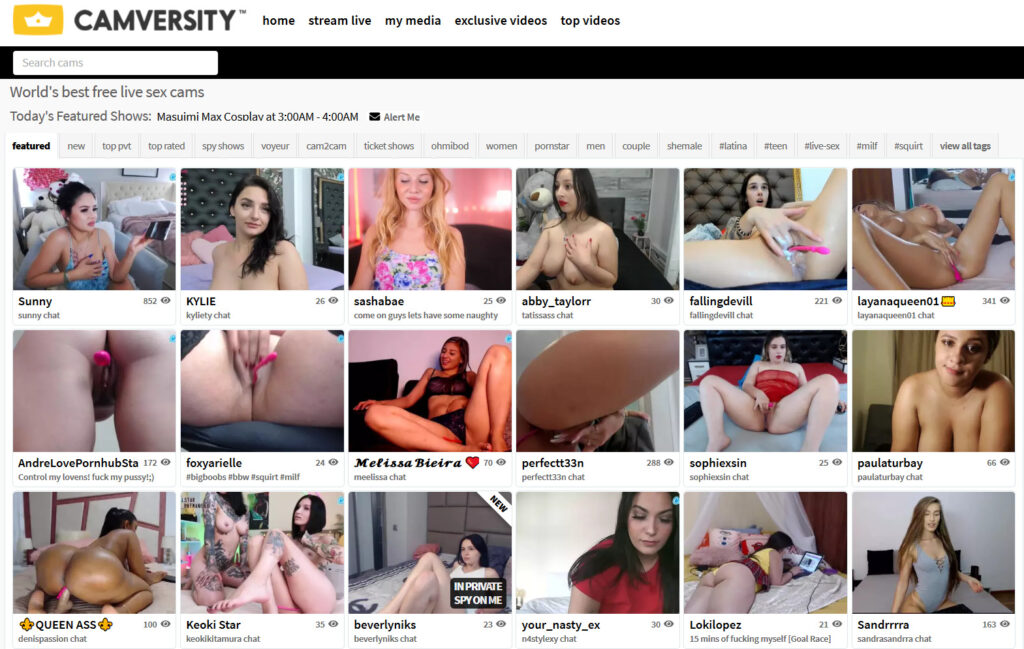 Model profiles
Camversity offers animated previews for its live shows, but you can only see one or two seconds of each broadcast in the preview. That is why you will need to open each broadcast to see what's going on there. In each webcam show, you can see the video feed on the left and the chat in the right part of the page.
The available options in each webcam show include sending a tip to the performer, arranging a paid private show, becoming a follower of the model to catch her next performances, and rating her. You can also find a very short model's bio on the bottom of the page, but it's unlikely to tell you a lot about her and there are little to no additional media files you can check out.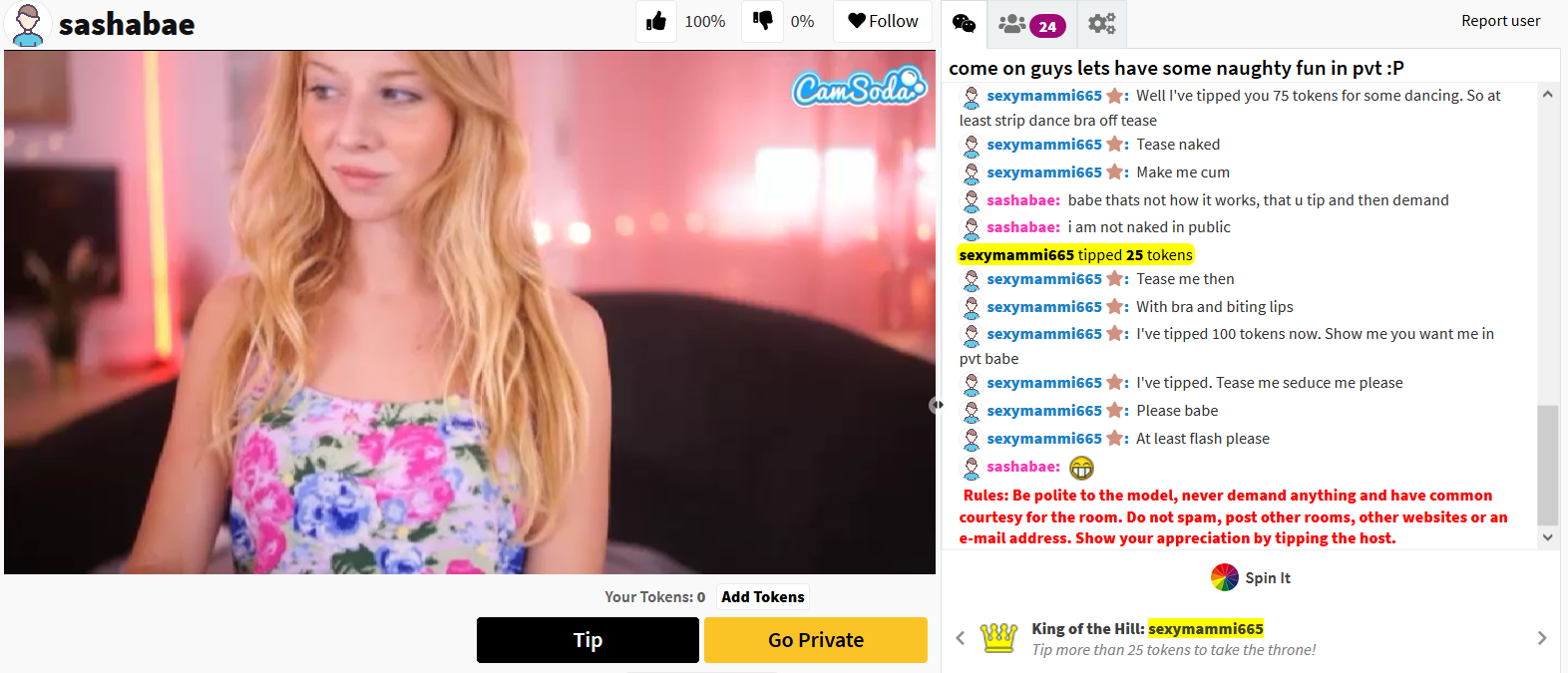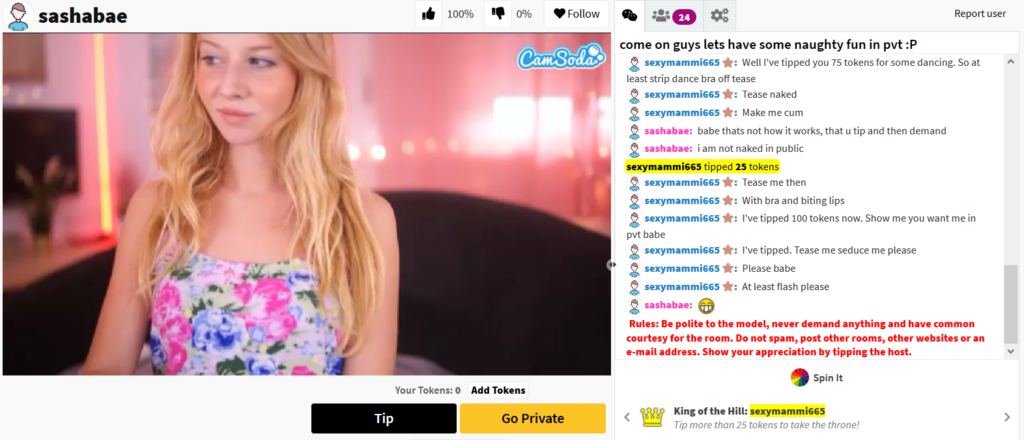 Audience
Taking into account the fact that Camversity is an absolute duplicate of Camsoda, there is no unique selection of Camversity models we can talk about. However, if you check out our review of Camsoda on SexCamRadar.com, you can find out that we were pretty impressed with the audience of Camsoda, and those are the exact same models you will see on Camversity.com.
Overall, while the count of performers at Camversity is relatively big, it is not remarkably diverse. You can only find a few male, couple, and transsexual models, but the overall number of female models is likely higher than the number of all other performers combined. Plus, there is not much diversity in the ethnicity or body type aspects, as most models are Caucasian, fit, and conventionally appealing.
Pricing
Camversity.com uses fixed pricing for all of its live shows, which may be an advantage to a tiny part of the audience. However, for most people, fixed private show rates mean less freedom of choice and fewer ways to save money on the viewing experience. There are four types of paid shows you can watch on Camversity:
Group shows at 10 tokens per minute, where at least 3 users chip in to watch the same performance.
Spy shows at 30 tokens per minute, where you can see what a performer is doing for another viewer while you are not able to participate in the chat.
Private shows at 60 tokens per minute, where you are one on one with the performer but other people can spy on your show.
True private shows at 80 tokens per minute that only include you and the model with no opportunity of spying.
You can purchase Camversity tokens in packages ranging from 100 to 550 tokens. You can also get 200 bonus tokens if you opt for a Premium membership, which costs $19.95 per month and allows you to message the models privately, removes the ads from the interface, and gives you an opportunity to tip anonymously.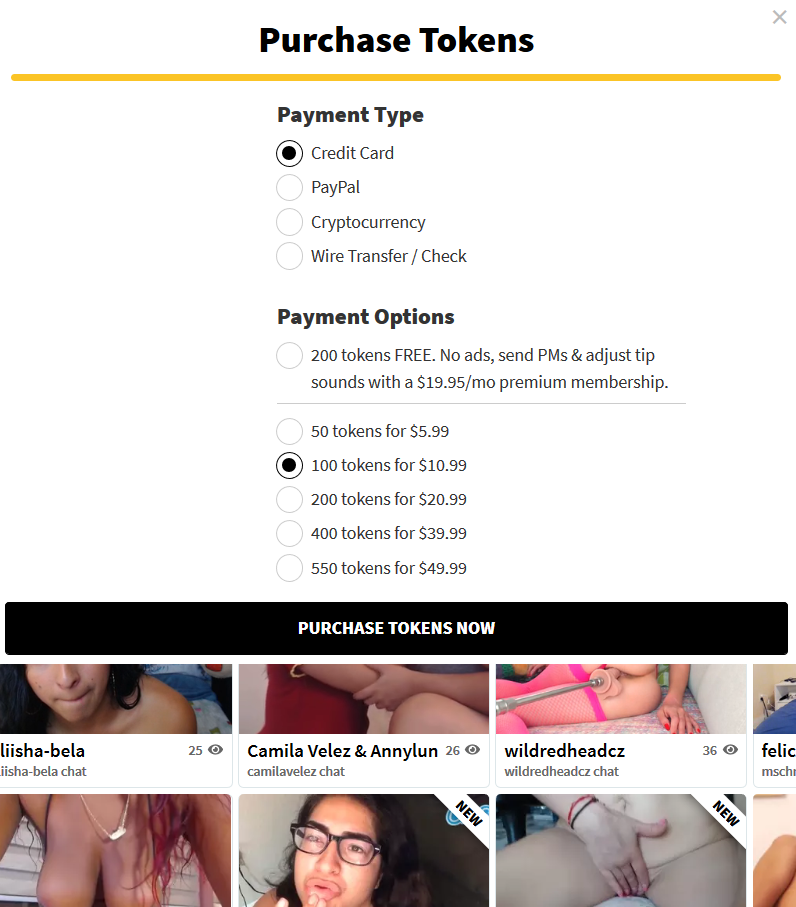 Safety
As live sex webcam site experts, we at Sex Cam Radar want our readers to rest assured that their adult webcam experience is absolutely safe. In the case of the Camversity review, we cannot say there have been any reports of suspicious activity on the site. However, the very fact that Camversity is a direct copy of Camsoda already makes you feel a bit unsafe.
Moreover, Camversity.com has a very brief FAQ section that barely answers any questions you may potentially have about using the site. It's also worth noting that Camversity offers only one way to get assistance from customer support, which is via a form on the site, but the range of problems you can get help with is also rather limited.
Summary
Camversity looks like an average adult webcam service, but there is simply not much about the site that could make it stand out in our eyes. Everything from the selection of girls to the number of available features on Camversity is very mediocre, except for the prices, which are higher than you expect.
FAQ
What is Camversity?
Camversity is a live webcam site that turns out to be an exact copy of another adult entertainment site called Camsoda. Camversity.com broadcasts erotic shows from male, female, trans, and couple performers 24 hours a day and 7 days a week.
Is Camversity safe?
Camversity is only 5 years old and does not have a reputation as strong as many other cam websites. Still, while working on our Camversity review, we did not discover any credible evidence that Camversity is unsafe, although we want the site to introduce more ways to reach out to customer support and add a more informative Help section.
How much does Camversity cost?
Camversity offers fixed prices for different types of shows: 10 tokens per minute for group shows, 20 tokens for spy shows, 60 tokens for a private one on one show, and 80 tokens for true private shows. Tokens are sold in several bundle options ranging from 50 tokens for $5.99 to 550 tokens for $49.99.
Is Camversity a scam?
The answer to the question whether Camversity is a scam cam site mostly depends on what you consider to be a scam. Camversity doesn't just take your money and disappear — you pay for the services you really get. However, given that Camversity is nothing more than a white label copy of Camsoda, it also doesn't look 100% scam-free.
Can I use Camversity for free?
There are dozens, if not hundreds of shows you can watch on Camversity without paying, but it's important to remember one thing: free public shows are just a way for the model to show off her beauty and skills for a paid show. The moment she is booked for a private performance, she will abandon the public chat and the free viewers.
Does Camversity have a mobile app?
Nope! Camversity is not a standalone cam service and it doesn't have any mobile apps of its own. Camsoda also does not offer any downloadable apps, but you can open Camversity.com on your mobile device with the help of your favorite browser.
Are there any sites like Camversity?
Sure thing! Considering that Camversity itself is an absolute copy of another webcam site, there are numerous alternatives to Camversity you can try. Remember to check out SexCamRadar, where we publish fair and impartial reviews for the most popular adult webcam services.